Koch Industries, Inc., headquartered in Wichita, Kansas, is one of the largest private companies in America according to Forbes Magazine — with more than $100 billion in revenue, a presence in nearly 60 countries, and about 70,000 employees.
Each fall, Koch Industries' recruiting department conducts a large campaign to bring in college students and recent graduates for internships and entry-level positions. Candidates may apply for positions with each of eight business units, and there may be several types of positions (accounting, engineering, marketing, information technology, etc.) available within each unit.
Additionally, business units often have varying needs for open positions each year, and some positions require special experience, which recruiters must be aware of when conducting the interviews.
The recruiting process also has multiple stages. A recruiting team visits 20 universities in the Southeast and Midwest to conduct first round interviews with 500 applicants. Roughly one-third are then invited to Wichita for a recruiting visit and a sequence of two to four interviews with a specific business unit interview team.
Jennifer Fast, a Koch Industries recruiting manager, coordinated the fall college recruiting program with colleague Erika Vidricksen.
"Initially, Erika and I were routinely working until 7:30 or 8:00 at night, and most weekend days," Fast said. "We were scanning resumes to send to interview teams, and coordinating times, and it seemed there were always too many loose ends to keep track of."
"We had one shared spreadsheet tracker for all items we needed to track with every candidate," Vidricksen added. "We would sometimes lose track of which one of us had the most up-to-date spreadsheet when emailing it back and forth. It was frustrating."

"It seemed there were always too many loose ends to keep track of…. We would sometimes lose track of which one of us had the most up-to-date spreadsheet when emailing it back and forth. It was frustrating."
Jennifer Fast, Recruiting Manager
Koch Industries
Shiftboard Applicant Scheduling Application
While Koch Industries used an industry-leading shared calendar system, Fast and Vidricksen found they had more complex scheduling challenges and business requirements than the system could handle. Open interview slots changed often due to changes in executive calendars. A specific interviewer could only fill an open slot based on both the business unit and the position type for which they were interviewing.
"It took a lot of time for us to keep track of what interview slots were open, due to last minute cancellations," Fast said. "And we could only fill those slots with interviewers who were properly qualified, in business unit and background."
Frustrated, Fast and Vidricksen sat down to debrief their experience and try to find improvements. They decided to search for online scheduling software geared toward recruiting.
"We calculated that Erika spent 43 hours that fall just answering and returning voicemails," Fast explained. "Some of our cost justification for new software was regaining that lost time. Instead of all the back and forth, she could use that time to really focus on the applicants and recruit the best new folks."
The top requirements for a self-contained online scheduling software system included:
A web-based system that applicants, interviewers, and the recruiting team could access anytime, anywhere
Ease-of-use, since the nearly 200 applicants coming to Wichita each season had little to no training time
Easy reporting and downloading of stored information (applicant details and status, schedule, and more) to Excel
A centralized repository for applicant information, such as GPA and major, plus a document management component to store resumes and transcripts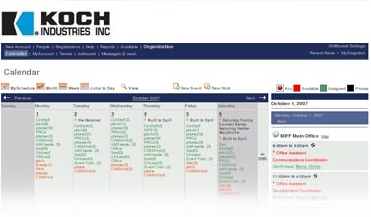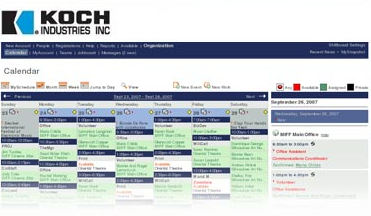 Shiftboard deployed a recruiting online scheduling system, complete with the Koch Industries look and feel. With the web-based system, additional IT overhead or costs are not required. Koch Industries Shiftboard site includes:
Applicant self-scheduling for interview dates, based on available openings
Document attachment on each profile, so resumes and transcripts can be uploaded and stored in a central location
A profile for each applicant that includes common information, like GPA and graduation date, that are visible to the applicant and management. The profile also includes a management-only tab containing all of the fields on Koch Industries old spreadsheet tracker
Segmented scheduling in a completely integrated calendar. Each business unit and position type are separated for easy filtering and reporting
Integrated and centralized management reporting, including forward-looking interview schedules, applicant profile information, and interviewer scores
Did the team recapture Erika Vidricksen's voicemail time back with the new system?
"Yes, we absolutely got Erika's time back, and more," Fast said. "We weren't bored this fall, but it was so much better. It was a big time relief not being so stretched."
Additional time was saved via the centralized — and easily accessible — repository for all information needed throughout the recruiting process.
"Jenn and I are able to push many of our tasks out to our applicants and interviewers, which is better for everyone," Vidricksen said. "Applicants can upload their own resumes and transcripts, which gets rid of all the manual scanning we did before."
"Our interviewers are required to pull down resumes and applicant information, but they can do it at their own convenience, instead of waiting for an email from us like before," she added.
Ease of use, a critical component to the success of the system, exceeded expectations. When the Koch Industries team held exit interviews, each applicant was asked about Shiftboard as part of the overall process.
"95% said it was very easy to use for applicant self-scheduling and loading documents," Fast said. "They said it was nice to schedule their own times. Even the other 5% said it just took a little time to get the hang of it. Overall, Shiftboard was very well received from the applicant side."
Finally, the management reporting and central information repository proved extremely valuable.
"We push reports out to the business unit interview teams every week of the campaign," Fast explained. "The reports combine interview times and dates from the schedule with candidate information from the checklist. The key to me is having everything in a central place. It's all here. You can pull scheduling or applicant information out, run reports, or whatever you need to do. That was a huge win for us."
Koch Industries has realized the following benefits using Shiftboard:
Significant time savings, by automating tasks that normally required email, manual inputs, and phone calls.
Visibility into recruiting efforts through powerful reporting tools.
Streamlined operations resulting from having all recruiting information stored and accessible in one place.
Satisfied applicants and recruiting team members, who found Shiftboard helpful and easy to use.
Discover Smarter Scheduling

"The key to me is having everything in a central place. It's all here. You can pull scheduling or applicant information out, run reports, or whatever you need to do. That was a huge win for us."
Jennifer Fast, Recruiting Manager
Koch Industries