Associated Order Processors
Call Center Agent Scheduling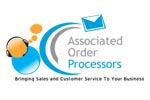 Associated Order Processors (AOP) is a virtual call center, taking customer calls and monitoring website chat lines for large retail clients. The company provides coverage 24x7 throughout the year, with different clients needing more or less coverage on a given week or month due to seasonality, special promotions, product campaigns, and other factors.
Although AOP has offices in upstate New York and Kansas City, MO, more than 80% of the company's 185 operators work from their homes across four US time zones. Operators must be outfitted and trained remotely, without coming to a physical office location. When new client programs begin, AOP may hire up to 20 new operators a month, who must all be outfitted, trained remotely, and scheduled around the clock.
AOP had been using a shared online calendar, but it didn't do the job. "We had 135 operators all looking at one calendar," said Trish Marquis, AOP's scheduling manager. "No one could see just their own shifts, or print their individual schedule to post on their refrigerator. We tried creating one calendar per client, but at the time, that meant 15 different calendars, which in some ways made things worse."
Shifts went unfilled because operators couldn't see what shifts were open. Supervisors spent their days calling operators and program leaders trying to figure out why someone was not "seated" for a shift on time. Plus, they had only one email listserv. "Program managers would send out notes only certain operators needed to see, but everyone received the email," Marquis said. "This type of thing happened very often."

"We tried creating one calendar per client, but at the time, that meant 15 different calendars, which in some ways made things worse."
Trish Marquis, Scheduling Manager
Associated Order Processors
Shiftboard Event Scheduling Software
Shiftboard online scheduling system clearly met AOP's requirements.
When AOP's president asked her for requirements for a new online scheduling and communication system, she knew exactly what to list:
A color-coded calendar, so operators could see, request, and fill shifts quickly and easily
The ability for each operator to see and print their own calendar for a given day, week, or month
Permission levels, so operators only see shifts based on client programs for which they are trained, while management can see an umbrella view of the entire schedule across all programs
The ability to communicate by program, and delegate that communication to the different program leaders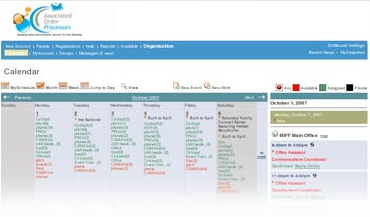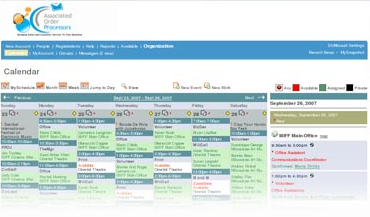 "The system is very easy to use, it's something you can do with very little training," Marquis said. "We sent out one group email to reinforce the color-coding of the schedule, but other than that we've had very few questions. Operators can print their own schedules, and open shifts get filled within 1-3 days, which is a huge improvement."
It's not all business all the time, however. "Being able to upload a picture with their profile is also nice," Marquis said. "All the kids want things like their MySpace page these days."
Associated Order Processors has realized the following benefits using the Shiftboard Call Center Scheduling System:
Supervisors for day, evening, and mid-shifts can print reports by client or date and export to Excel, all centralized.
Program leaders can send emails to specific client "teams." Teams are a very easy and flexible way to segment messaging and schedule information in Shiftboard.
Program training completion dates are among the many fields kept in each operator's custom profile in Shiftboard online worker database. All information can be reported on or downloaded to Excel.
Discover Smarter Scheduling

"Everyone can be productive in other areas of the business instead of responding to last minute scheduling fire-drills. Because of Shiftboard user friendliness, we are covering more shifts and handling fewer questions."
Trish Marquis, Scheduling Manager
Associated Order Processors