Mark Gadia and Julie Zhan are Volunteer Co-Coordinators at the San Diego Asian Film Festival (SDAFF) and have been active Shiftboard users for 2 years.  As Volunteer Coordinators, Mark and Julie are responsible for all-things-volunteer including: volunteer recruitment, engagement, training, scheduling and communication.  They also contribute to the SDAFF Blog.  I recently sat down with Mark and Julie to learn more about the festival, gain insight into the volunteer experience and hear how Shiftboard has simplified their lives.
Shiftboard: Tell us about the San Diego Asian Film Festival…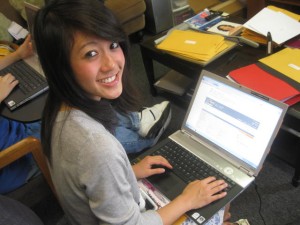 SDAFF: The San Diego Asian Film Festival is an annual event with an emphasis on Asian American cinema, but we also showcase international films, shorts, documentaries and animation.  Along with films, patrons will be able to meet and speak with filmmakers and actors, enjoy meaningful discussions, hear live music, and enjoy nightly parties.  The 11th Annual San Diego Asian Film Festival takes place October 21-28, 2010 in San Diego, CA.  For more information about the festival, to volunteer or purchase tickets, please visit SDAFF.org.
Shiftboard: Give us the stats…How many volunteers do you need to recruit?  How many shifts are you looking to fill?

SDAFF: We have recruited over 800 volunteers.  We need at least 300 volunteers to fill over 1,000 shifts over an 8 day festival.
Shiftboard: Wow, only 2 volunteer coordinators manage 800 volunteers, nicely done!  What recruitment strategies have you found to work best for your organization?
SDAFF: The best strategy that we've had is word of mouth actually!  Our volunteers love volunteering for the festival so much that they can't help but tell everybody about their experiences.  Also, we have a dedicated Street Team that heads out into the community and does grass roots marketing and volunteer recruitment in organizations, schools, and businesses.
Shiftboard: What advice can you give to other Volunteer Coordinators to help simplify their lives?
SDAFF:  Scheduling over a thousand shifts for an eight day film festival and keeping track of over 800 volunteers can be a daunting task.  Using Shiftboard has streamlined the process both from the administrative and volunteer side. Creating shifts, organizing and communicating with volunteers has never been easier.  Edward Shaffer, whose Shiftboard handle is "Sparkles Chocopie" and is also our Facilities Coordinator, says that "In the past, for other festivals, I have used other online scheduling systems and I prefer to work with Shiftboard!"
Shiftboard: Your team has created Shiftboard 'handles' sort of like a social media alias? Awesome!  Do you have any other fun aliases or stories you can share about the volunteer experience?
SDAFF: Edward's handle is actually a combination of two things.  "Sparkles" comes from the fact that he shares the first name of a character in a popular vampire movie/book series where the vampires sparkle when in daylight.  "Chocopie" comes from his extreme addiction to choco pies which is a chocolate cookie snack with marshmallow filling.
Shiftboard: Is there any other 'behind the scenes' info you would like to share with our readers?
SDAFF:  We believe we are one of the best organized film festivals in the country.  Hopefully when patrons attend the 11th San Diego Asian Film Festival, they will see this.
Shiftboard: Thanks Mark and Julie for chatting with us. We wish you all the best for a successful festival.
Do you want to win free tickets to the San Diego Asian American Film Festival?  Be the first person to email Stephanie@shiftboard.com and we'll send you 2 free tickets!