Tis the Season Part 2: Giving-A-Shift at the Puget Sound Blood Center

When the Give-A-Shift blog team decided to look at non-profits and volunteers giving their time during this season of giving, I decided to tie in a broader theme of giving in any local community: giving blood.
I assume many of you out there are like me in the following way.  When I see an ambulance speeding through stoplights, I simply take for granted that the local blood banks are full.  This time of year especially, it's worth spelling out in a little more detail how much giving is required to keep those blood banks full here in Seattle, since I have learned a lot more about the subject in 2010.
Puget Sound Blood Center (PSBC) chose to change over to Shiftboard for its online volunteer scheduling software late last spring.  Due to their scale, nearly 2,500 volunteers participating annually; and the complexity of volunteer scheduling, crossing a geographic span from the Canadian border to the banks of the Columbia River that creates the natural border with Oregon; PSBC did not have trivial requirements.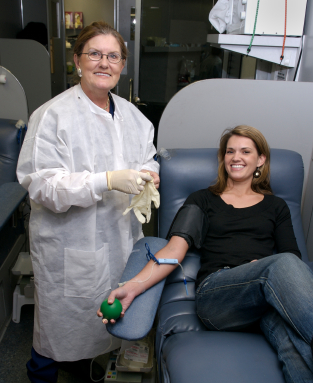 Adding to the mix,  consider what else is required of PSBC to get blood a couple of times per year from someone like yours truly.  It requires convenience, because I am always late to get somewhere or do something.  I squeeze in giving my pint a few times a year when I don't have to travel far and the line isn't long.  So PSBC volunteers set up shop not only at 12 district offices, but they cover mobile drives at nearly 4,000 locations per year including schools, churches, universities, and offices with their mobile teams.  Talk about a communication challenge with volunteers!
But the team of management staff and volunteer coordinators at PSBC take it all in a day's work.  They are very organized, and they take on the challenge with an upbeat spirit.  So do their many volunteers.  Our system has made it that much easier to work with their volunteers. Now their volunteers can check their schedules right online with speedy screens and response times not available in their old system, know where they are going in Shiftboard via Google maps, self-schedule some shifts, and print their schedules any time of the day or night.
Of course in this and all seasons, it comes full circle.  Because PSBC can work easier and more efficiently with their volunteers, their volunteer base grows and gives more of their time.  And that time allows PSBC to cover more locations more often, which in turn allows the many folks like me to give blood easier.  And hence, those blood banks are more likely to be full with so many good folks participating in some way.  So, in the spirit of the season, please try to give either your time of some of your own blood to your local blood center.  And a special thank you to the PSBC team and all of those volunteers for stewarding our Western Washington blood supply.  Happy Holidays!  Rob