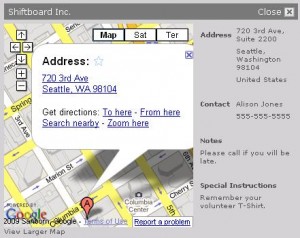 Attaching Google Maps to shifts within our online scheduling system is not anything new.  However, the feature has recently been enhanced.   In addition to a location name and address linking to a Google Map, managers can now associate a contact name, phone number, notes and special instructions for each separate location.
This means all employees and/or volunteers have a Google Map to their destination as well as easy access to all important contact information they may not necessarily keep on file or have memorized.  Excuses for being late go right out the window with this tool.
Small enhancements like these make scheduling and communication with Shiftboard much easier for scheduling managers in many different markets. These markets range from small to large businesses, healthcare, education, municipalities and the non profit sector.
-Alison J
Links in this Post:
http://www.shiftboard.com