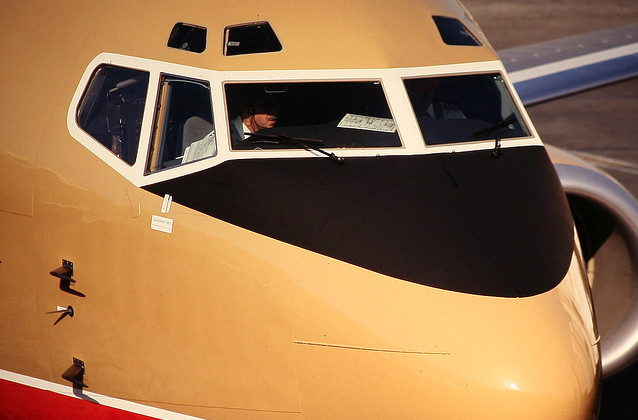 Remember we are back in Denver from Laramie now, and the next stage of our Give-A-Shift College Tour will take us east to the great heartland of the country.  I'm checking Southwest flights for a non-stop, because we need to get to visit both Michigan State and Oklahoma State.  What we will find in both places will be similar, but Southwest.com indicates a lot more direct flights into Tulsa.  With Stillwater (the home of OSU) sitting about an hour due west of Tulsa on the map, another rental car will be involved.  You've gotta love colleges that dominate a smaller town, because they pump with the vibrant energy of youth and skies-the-limit expectations.
This will be my first visit to OSU, but I am certain it has a similar feel to Lafayette, Indiana or Boulder, Colorado.  Once there, I need to search out an engineering class, MET 3343, which has students self-schedule all their own lab time via Shiftboard.  We call that Bottoms-Up Scheduling™ here in Seattle, and it saves the lab TA a ton of time answering voicemails and emails.  What does MET 3343 schedule, you ask?  Students self-schedule for the precious slots on massive farm equipment.  Awesome!

Getting to East Lansing, Michigan is a bit tricky.  Southwest only offers a flight into Detroit Metro via Midway.  We might as well take a half-day layover in the Windy City to run over to the
.  The medical school there used Shiftboard for a 3-year research project to sample local water purity and compare results to what the local folks perceived of their water quality.  All the samplers and poll-takers, who were required to know different languages based on the neighborhoods being sampled, were coordinated via Shiftboard.

From there, it's a short hop into DTW, and then a quick hour in a car over to East Lansing on I-96.  Having grown up in Grand Rapids, Michigan, I can do that drive blind-folded.  The Spartans are in the middle of savoring one of their best football seasons in decades, so it won't be easy to get much of Supply Chain Management 303's TA  Jagger.  But since I have spoken to him any number of times on the phone over the years, it will be a pleasure to put a face to a name.  Each fall and spring, Jagger uses Shiftboard to get 900 students in his large supply chain survey class to self-schedule two computer simulation labs with very limited seating capacity.  It's pretty clear why Jagger is happy to meet a Shiftboard representative.  "The students choose their own lab times.  I have cut 10 hours per week out of my schedule.  It's great to post the labs and then just watch my email account fill up with shift confirmations."  See you soon on our East Coast swing.
-Rob