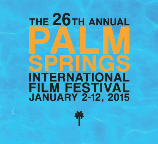 Happy New Year! The Palm Springs International Film Festival starts January 2nd and runs until January 12th. What a fantastic way to ring in the New Year!
The festival features American films, but since its inception the focus was to shine a spotlight on international cinema. Attracting around 135,000 people each year, the Award Ceremonies attract some of the highest level talent from Hollywood.
This year, the opening night gala features the film Selma. A historical moving piece that chronicles Dr. Martin Luther King, Jr's march from Selma to Montgomery, Alabama in 1965.
Please consider donating your time and volunteering for the festival this year! Palm Springs International Film Festival is a non-profit and relies on volunteers to help make this festival a success. You can find more information here.
Wishing everyone a happy new year filled with fun, friends, and nights out at the movies!