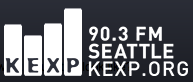 KEXP is more than a radio station. KEXP is a dynamic arts organization that provides rich music experiences on the air, online, and on the streets. KEXP's unique services benefit three distinct groups: Music Lovers, Artists, and the Arts Community.
KEXP's curatorial staff of 40 DJs, who are widely recognized as experts in their field, present the newest emerging popular artists alongside established bands. KEXP's programming features both variety and specialty shows that brings you the emerging sounds and long-time favorites from the Pacific Northwest, the country, and throughout the world.
Artists championed by KEXP are not typically supported by traditional non-profit arts organizations or commercial media outlets. They are inventive, contemporary musicians creating new work in popular genres that include rock, hip hop, reggae, country, Latin, modern global and more.
Sign up now via Shiftboard to volunteer for KEXP's Fall Drive, 9/26-10/3! It's a great way to get more involved with the KEXP Community and support non-profit radio!