We know you have a lot to manage – from people, to teams, to shifts – and we want to help as much as possible. This is why we added the category feature. This feature provides an overarching umbrella structure for reporting purposes. It provides a way to sort and keep track of your teams. You can create three categories, which are all independent of one another.They are sorted by type suchs as medical teams or logistics and then can be sorted by region or division. Teams can be in more than one category such as Medical and Logistics.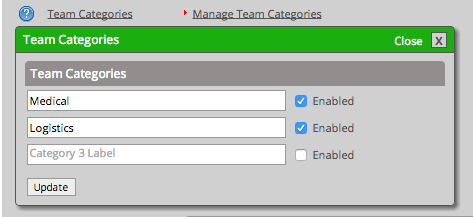 To set your categories go to Settings> General Settings> Team categories and click on "manage team categories." You can title and enable your categories.
On the right side of your screen, under "List Settings" you will see "Edit xx (ie Medical team) List." Click on that link and add the labels you want. For a medical team it could be First Aid, Nurses, EMTs etc.

Then go to your myTeams area> Select a team> Contact information> Assign the team where it goes. Then you will be able to search for your group teams for reporting information.