We get it. Sometimes shifts are outside of the norm. Regular start times on the hour or the half hour just might not work in each situation. Well, we have a solution for that! Introducing custom shift time intervals!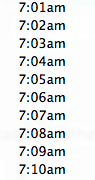 There are a few different options to choose from with this new feature. Choose 1 minute increments or create your own list with the custom minutes feature! You'll find the change in the "Default Time Format" section on the general settings page.

Creating a custom list of times will show you the exact numbers you requested in the shift drop down.

Need to create an odd shift time? Maybe from 8:03am – 4:22pm? Now you can with Shiftboard's custom shift time feature!