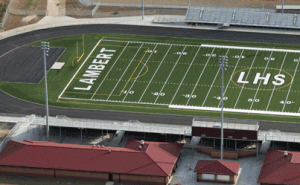 There was a time back in my youth that I actually played football.  I can still get down in my three point stance, literally it's engrained in muscle memory.  Don't ask me to come off the ball, however, as these mid-forties knees and hamstrings don't take jokes well.  Regardless, I still love the game.  Here in Seattle, UW's coach Steve Sarkisian opens his August practices to the public.  I have dragged my young kids up there a couple times, mainly so Dad can get his fix.
Just like the leaves falling from the trees, I can smell the season.  In the words of my coach chiseled into my brain, "Buckle Up!"  Start in Georgia, where warms my heart to see the Lambert Longhorn Touchdown Club using Shiftboard to schedule volunteers.  As with many events and non-profits, we are also a proud sponsor. Get back in the car and head north to Indianapolis, picking up I-65 at Nashville.  It's been a while, but having grown up in Michigan, I've done the roadtrip to Daytona and back and remember the route.
When you get to Indianapolis, you'll have trouble missing the Hosier Dome, home of the Colts. And there you will find Kids First Booster Club, a local non-profit organization, serving beers and hotdogs at one of the many booths in the stadium.  Proceeds will be going to their club supporting kids sports in their community.  How did all the volunteers know when and where to be? They picked up their own shifts on Shiftboard.
Still with me?  Let's complete the triangle and head back south.  We'll need I-70 to St. Louis, and then I-55 from there to New Orleans, home of the Super Bowl champion Saints and the Superdome.  We have recently trained Centerplate's Superdome team, which provides food and beverage at the stadium.  Along with all their hourly workers, guess who else they schedule and communicate with on our system?  Their non-profit organizations of course.  It ties together rather nicely, doesn't it?
-Rob