It's funny how things move in cycles here.  Our roots from some of our earliest customers were in the event management market.  When I came to Shiftboard, most of those customers were in film and music festivals.  We supported them well and continue to do so, but it took a women's soccer team and a fall season to bring event scheduling into focus for me.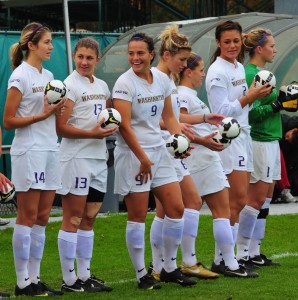 Our family had attended a few University of Washington soccer games a year for years.  But over the past two years, Lesle and Amy, the head coach and assistant head coach of the University of Washington women's soccer team respectively, have become good friends of ours.  Amy and her husband have two boys the same age as my two boys, and they play on some teams together.  Lesle's high school-age son watches our kids sometimes, and keeps them busy running around more often.  Those two coaches probably think of it more as a cruel twist of fate that they know us, because I now and then after a game I step into my "armchair mid-fielder" role (I know virtually nothing about soccer, which must make it unbearable).  Regardless, our family has become boosters and close followers of the team.
The way to really know event scheduling?  Working with customers of course.
As I have followed the women Huskies this season, Shiftboard has been pulled ever deeper into event management in terms of meeting customer needs.  Our customer base began to not only include a multitude of festivals, but also professional event management companies.  The first was OneReel, a local Seattle firm that runs many events including a nationally known music festival, Bumbershoot.  Then came Film Independent, which runs the Los Angeles Film Festival.  Soon we had event management companies coming from across the country, including Linder & Associates in the Washington DC area organizing federal government-sponsored events.  They recently ran a Department of Energy event, Solar Decathlon, with scheduling software provided by Shiftboard.
In parallel, sports event management firms have been knocking on our door.  Cal-Berkeley Events & Ceremonies referred us internally to Cal-Berkeley Athletics, where the ticket office schedules their personnel with our software.  The CVS/pharmacy LPGA Challenge came in on extremely short notice from a referral this fall.  We set them up to coordinate their 100+ carts and shuttles volunteers.  We have soccer league customers and we're breaking into hockey. I won't bore you with a long list, but lets just say our account managers have event management on the brain.
We are pretty darn good at supporting the requirements of this business in terms of real-time scheduling and communication.  As dates, times and locations change on very short notice in the event scheduling world, every worker has real-time visibility into the calendar status.  Our system is exceptionally intuitive for hourly workers or volunteers with little technology patience.  And our software handles events with as few as 50-100 workers and very large annual gatherings with thousands of workers or volunteers. We have earned our knowledge in terms of an all-up-round software solution through direct customer interaction across all these types of events.
It's hard not to care
As this fall progressed into November, the personal and professional aspects of event management were running in parallel for me. I sat with my family in the bleachers last Sunday, and my blood was up.  After a great season, a UW Women's Soccer NCAA Tournament spot rested on their final game against a highly ranked USC team.  At the beginning of the 2nd half, the Huskies were down 2-1 despite playing far better in the first half.  I was trying to forget Lesle's words after a well-played loss earlier in the season, "I hate moral victories."
Given past history and some "coaching" from my wife after a few Michigan football losses earlier in our relationship, I generally try not to care much about sports these days.  That outlook helps keep me from getting too competitive.  But I have come to know most of the players and certainly the coaching staff of this team.  Needless to say, my 3 year old daughter was complaining about me cheering on a cold November afternoon, "Too LOUD in my ear, Daddy!"
The team battled back with a beautiful assist and goal between two fleet-footed strikers midway through the half, combined with a lock-down defense.  The same pair almost scored a 2nd goal that half on a breakaway among other solid scoring opportunities, but a 2-2 draw was enough.  When the tournament pairings came out earlier this week, the Lady Huskies were matched against the University of Mississippi for their first game.  Looks like in terms of both event management here at Shiftboard and more importantly the Husky Women's Soccer tournament bid . . . IT'S ON!
-Rob E