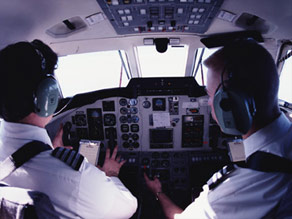 Well folks, most of you have now read of the two Northwest Airlines pilots who flew past their destination by 150 miles earlier this week on a trip from LAX to Minneapolis.  Not necessarily because it happened, as there is some human error potential in any endeavor.  It's the reason that has my head spinning.
According to MSNBC,   "The pilots of Northwest flight 188 told the National Transportation Safety Board (NTSB) that they were so engrossed in a complicated new crew-scheduling program on their laptops — that they lost track of time and place for more than an hour until they were brought back to alertness by a flight attendant on an intercom."
Delta's scheduling software for pilots, required to be adopted as part of the merger with Northwest, was so complex as to have caused those pilots to lose track of an hour in the air?  Are you kidding me? Here's a little snippet from the New York Times on this same story:
"Though similar to Northwest's scheduling system, the Delta procedure uses different acronyms and a different computer program, said a pilot who has used both systems but who requested anonymity because he is not authorized to speak publicly.  He said the Northwest system was 'more intuitive.'"
Northwest's scheduling software was more intuitive?  Ya think??  Circumstantial evidence seems to indicate that reprogramming O'Hare's air traffic control system (probably written in Fortran) would be more intuitive.
We're in the business of scheduling software here at Shiftboard.  But I can say with 100% certainty that we're not in the same business as Delta's scheduling software vendor.
Why does ease-of-use matter?

I wrote a post back on July 22 entitled  "Remember When . . . Confusing Products Were A Good Thing?"  I guess someone at Delta missed the sarcasm.   My next post on July 27,  "The Most Demanding User Base is the Fleetest Afoot,"  was about the emphasis we place on making very intuitive software because our customers can't afford to train their distributed workforces.  People around here were rolling their eyes and telling me move on in the blog, they got the point already.  Evidently my (WIDELY read) blog doesn't have a big following in Delta's IT department, however.
We don't take ease-of-use for granted because our business depends on it.  And our business depends on it because our customers expect and demand their online scheduling vendor to provide a system that is easily adopted by both their schedulers and workers.  Last time I checked, two well-educated and veteran pilots staring at a screen scratching their heads for hours won't pass muster.  Our standard here is that anyone who can use email can figure out the system the first time they log in . . . with no training.
Don't worry.  If the NTSB comes calling, we'll pick up the phone.  There's a new sign hastily scrawled in felt tip marker hanging above the entrance to the development office wing here:

It's only half in jest.
More importantly, that sign will still be hanging at Shiftboard long after this Northwest/Delta Airlines flap has blown over.
-Rob E.