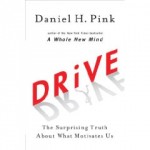 Daniel Pink is well known for his books around the new workplace, Free Agent Nation, The Adventures of Johnny Bunko, and now Drive.  As we work with companies who use our scheduling software to make life easier and more efficient for their workers and managers, this is an author we have enjoyed.  There are many workplaces that use ideas and concepts from the research Pink shares.
On January 12th, 2010 at 5:30pm, Biznik (the business networking site taking the biz world by storm) is hosting it in their Biznik Innovators series.  The cost is $40 for basic members, $35 for Pro members and $25 for Pro VIP members of Biznik.
From the Innovator Series page:
"Dan Pink, the celebrated best selling author ofFree Agent Nation and A Whole New Mind says forget everything you thought you knew about how to motivate people – at work, at school, at home.  It's wrong.  As he explains in his new and paradigm-shattering book Drive: The Surprising Truth About What Motivates Us, the secret to high performance and satisfaction in today's world is the deeply human need to direct our own lives, to learn and create new things, and to do better by ourselves and our world."
Learn more about the Dan Pink event or signup.
To learn more about Biznik, follow Dan McComb on Twitter.
Warren Etheredge of The Warren Report will lead the discussion.