Shiftboard knows security. We provide some of the most trusted security firms in the world the tools they need to easily manage their workforces. Along the way, we've learned what makes their operations tick.
And because even the best generals need intelligence on conditions on the front lines, we also make it a priority to keep an eye on industry trends. Why? Because doing our homework allows us to provide first-rate service, support, and innovative solutions for our clients.
To show you what we mean, we've prepared a brief overview of the competitive landscape in security today:
Security is Big Business
The US protective service industry employs more than 3 million people, with more than 1 million working as security officers and guards. As a whole, the industry takes in about $32 billion each year in the US alone.
Many Major Players
The most recent data shows that the top 37 US security companies staff an average of 12,000 employees across 52 offices. Their combined annual revenues top $15 billion.
Competition is Fierce
Demand is high for peace of mind. To cash in, large security firms are expanding and squeezing out smaller competitors. Experts cite the importance of HQ efficiency and excellent customer service as top factors that can help improve profitability and client retention.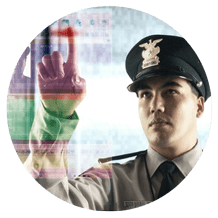 The Tech Advantage
Our clients are not the only firms embracing new technology. Industry research indicates that more than half of your peers prefer the competitive advantage of adopting new solutions early on, rather than waiting a few years or holding out until older technology fails.
The Talent War
Good talent is hard to find, and keeping them motivated is just as hard. Industry data indicates that almost 74% of you rely on incentives such as bonuses, public performance recognition and flexible staff scheduling to motivate security officers and guards. These kinds of perks can also affect recruitment and retention.
Inconsistent Certification Standards
On top of rising demand, varying regulations can limit the pool of qualified security staffing candidates. The lack of consistent licensing and training standards nationwide highlights the importance of effectively documenting certification requirements and monitoring expiration dates.
As you know, this barely scratches the surface of the factors impacting security companies today, and the landscape is constantly evolving. In such a competitive environment, your business and technology are just as important as your firepower.
Shiftboard understands, and we're here to help. Drop us a line to discover how to arm your security HQ to beat the elite.