We meet so many people in life that its not surprising many don't register very long in our memory banks.  At least a couple times a month I receive a "friend" request in Facebook that leaves me scratching my head.  "Did I know this person?  From where?"  But I can tell you that if line up 100 people and ask them to name their freshman roommate in college, every person will remember.
Mine was Himraj from New Dehli, India.  I learned a lot from him about his country, about being an international student in the States, etc.  Generally he broadened my horizons.  We remained close through our four years of college and beyond.  When I rolled off of active duty in the Navy, I had India on my backpack itinerary in order to finally visit him at home. Needless to say, it was great to see where he was from, meet his family, and tour some of India first-hand with my close friend as a guide.  Among many other memories, I had an eventful day-trip to see the Taj Mahal, just myself and a taxi driver, that is worthy of a separate post just in itself.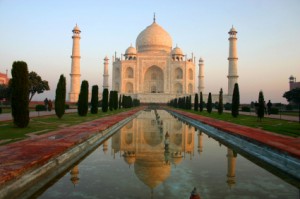 Best movie of the year
That was 15 years ago, and my wife had been there since, but I had not.  So recently when we settled on the couch to watch "Slumdog Millionaire", it brought me back.  It's a wonderful movie, but also a hard movie.  It doesn't hide from one of India's and the globes biggest challenges with regards to the huge masses of humanity living in grinding poverty.  None of those images were a surprise after my previous visit, however.
Whatever the reason, the scene from that movie etched into my brain are the rows of callers and computers in a Space Odyssey unnatural blue hue – an Indian call center.  We can all relate to call centers, of course, in terms talking to tech support from a Fortune 500 company or questioning our credit card bill.  Call center scheduling is one of our many market segments here at Shiftboard.  I guess I had just never pictured a call center in the Henry Ford production line sense at that scale.
Our scheduling software is a good fit
We provide call center scheduling to many customers – survey research institutes, product support groups, insurance appointment setters, etc.  Our customers are US and UK based to date, but I am sure some Indian customers are only a matter of time.  We tend towards call centers where the quality and ease-of-use of our software, combined with no IT requirements, consistently beat the big, tired call center switch vendors with some bolted-on call center scheduling software.
Most importantly, many of our customers, ranging from Cornell and University of Wyoming Survey Research Institutes to more traditional sales or support call centers like VoiceCurve are using a self-scheduling paradigm for their workers and managing the exceptions with our real-time coverage reporting.  That paradigm couldn't be more different from the Indian call center in the movie.
A few weeks ago, I received an email from Himraj.  He had run into a 3rd classmate of ours, Brooks, over in Mumbai.  There was the usual 3-way banter and some sarcastic references to past events, Kingfisher Beer vs. the local Northwest microbrews, etc.  It brought a smile to my face in the midst of a busy day.  I haven't forgotten.
-Rob E.