Every month, we show you which new FAQ's have been posted to our Help section. Keep the questions coming to feedback@shiftboard.com!
Can I send shifts by text to my workers?
Yes you can! We offer a premium sms texting option that will allow you to send shifts available for pick up by text. Using this feature, you can create a shift and send that shift by text to everyone in the team. Anyone who replies back with a code will be automatically assigned that shift.
If you'd like to sign up for our premium sms service, please contact us at feedback@shiftboard.com.
How can I edit the message members receive after they register?
To edit the message that people see after they have completed their registration go to Settings> General Settings> Templates. Make your edits in the box that says "Registration Complete Thank You Message." You can edit other messages that appear on your site.
Can managers see the extended filter?
Currently, the extended filter is only accessible to site admins. The extended filter will allow site admins to search for any of the custom profile information in the profile tab. This information can be customized to only be visible to site admins, which is why managers wouldn't have access to it normally.
Can I indicate the reason someone was a "No Show"?
Yes, you can mark the reason that someone was a "No Show" by enabling No Show with reasons. To do that go to Settings> General Settings> Application Settings> Schedules> Scroll down to Rules & Transactions. There is a dropdown labeled "No Show" Tools. Adjust the dropdown so that No Show with reason codes are enabled. Click Update Info.
If you click on the No Show Reason you can customize the reasons.
My member is clocked in to today's shift but it also looks like they are clocked into expired Shifts. What's going on?
If someone is clocked in for a shift and you click on expired shifts it will say clocked in. This is because the account is clocked in. Click who's on to see when (date and time) that they clocked in.
How do I set someone as a site administrator?
Click Settings -> Click Site Administrators -> find & select the checkbox next to the correct name, scroll down and click "Site Administrator" and then click Set Member Levels.
Once done, this adds the individual as a site administrator.
Sharing Schedules: How can I allow team members to see (share) each other's schedules ?
First you will have to ensure that you permit Shared View for your site by going to your Schedule Settings which can be found within Application Settings. Once there, the first option under 'Viewing Options' will permit Shared view to be enabled for your teams.
After this, you will need to change the teams "Shared View" setting. To do this click Teams -> Select the team you want to change to shared view -> click Team Settings. Once the setting has been changed, click Update Info.
Shared view to team members allows members on a team to see who else on that team is working and when. This permission can also be extended out to members of additional teams by selecting 'Allow Shared View to members of additional Teams' and then selecting which teams should have the ability to view this team's shifts. To allow all members of the organization to see this team's shifts, select 'Allow Shared View to all members in the organization.
Once the settings have been adjusted appropriately all your members have to do to see their teammates schedule is switch into 'Shared View' via the pull down located above and to the right of the Calendar. Note that Shared View is a read only view and as such will not permit changes to the schedule such as assignments or other changes. If you need to make changes be sure that your Calendar is set to 'Shift View' and you should be good to go.
Can my members invite a friend?
Yes! You can allow them to invite a friend to register. To enable this, go to settings > general settings and in the New Web Registrations section, there is an option called "Restrict Sending Invitations." Make sure this is set to No. Now your members will have the option to invite a friend using the invitation link at the bottom of the page.
You can also send out a link for this in any broadcast message. You'll see when sending a broadcast message there are checkboxes at the top of the page. One of these is called "Invite-a-Friend." Make sure this is checked when sending the message.
Can I adjust the amount of notifications I receive from Shiftboard?
Yes you can! Shiftboard allows you to control what notifications you receive from the system and how often you receive them.
To make this adjustment simply click on MyAccount on your Dashboard and from there to to the Notifications tab. In here you can adjust your Notification Settings as well as opting into receiving SMS/Texts from the system.
Message Delivery controls how you receive notifications from Shiftboard. The 'Immediate' option will provide you an individual email for each notification whereas 'Daily' or 'Weekly' will provide you a digest of notifications you would receive for the following time period. If you're receiving too many notifications you may consider setting your Message Delivery option to 'Daily' or 'Weekly'
If you have other questions or need assistance with something else be sure to click on the Feedback button on your Dashboard to get in touch!
How can I add people to teams?
There are a few ways to add people to teams. The Support Team can upload them for you. Just ask, we will send you the template. You can go into a person's account and add team memberships (and determine the level). You can go into teams, click members, click add members and you will get a list of everyone who is eligible to join the team.

Saddle up Houston! It's time for the Rodeo! The largest live entertainment and livestock exhibition is coming to town! The Houston Livestock Show and Rodeo starts on March 3rd and runs till March 22nd. You'll have plenty of time to watch the Rodeo Parade, try your hand at the World's Championship Bar-B-Que Contest, or attend one of the many live music shows featuring artists such as Hunter Hayes and Eric Church. With a wide variety of events to attend, the entire family will have a great time at the rodeo!
Last year, the attendance for HLSR reached over 2.5 million people. This requires over 28,000 volunteers! In 2007, the rodeo was deemed "the year of the volunteer."
Want to get involved? There is no better way to enjoy the rodeo by being a part of it! Learn more about volunteering here!
Have you ever checked out the Help/FAQ section of Shiftboard? You will see the link on your dashboard on the right hand side!

You can find a large number of different frequently asked questions in this section. If you ever run into a problem or are curious about a function, the answer will be in here!

We also have a number of different videos you can watch that go over basic functionality with Shiftboard. On the Printable Guides tab, you can view a very helpful Member Getting Started guide. This is a great introductory of our system for your staff members!
As always, Shiftboard support is always available by emailing us at Feedback at Shiftboard dot Com. Feel free to call our 1-800 number for live support as well!
Continuing on with the theme of mass uploading data, Shiftboard can bulk upload any and all data stored in your site. Locations, Roles, Team Names, Profile Data, and Departments are all examples of the types of information we can mass upload for you on the backend.
If you use any of these options below when creating shifts, you'll know that they first need to be added to the system. You can do this manually by going to Settings > General Settings and then using the list settings on the right hand side.

If you are just getting started with Shiftboard or have only recently decided to start using these fields, getting all that data into your system doesn't have to be time consuming! Just shoot us an email (feedback at shiftboard dot com) and we can send you Excel templates for all of this data. Easily fill that out, send it back to us and we will upload it for you!
Definitely believe that saving time is on the top of our priority list here at Shiftboard. Let us know what you need and we will always be here to help!
There are a number of different ways to allow notifications from Shiftboard. Want your emails rolled up into daily digests? Not a problem! Prefer not to receive email at all? That's available for you as well!
To change any of your preferences, select the MyAccount link on your dashboard and then choose the Notifications tab.

Here you will see different options for notifications through Shiftboard. To stop receiving Reminders or Confirmations for your shifts, uncheck the options below.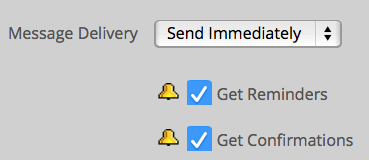 You can also change the message delivery option to Send Daily or Send Weekly to have all messages rolled up to once a day or once a week.
Be sure to opt in for text messages on this page to receive any urgent communication to your phone. This will ensure you won't ever miss an important notification!
Changing many shifts at a time is extremely easy in Shiftboard using the Bulk Change Tool. To do this, select a shift on the calendar and on the right hand side in the shift details select Change.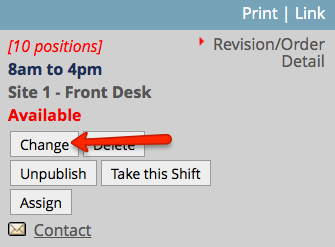 On the next page, choose the Bulk/Mass Change button at the top.

There are 3 steps to go through with this tool. On the first step, you will see a number of different filter options to choose from. Check these different options to narrow down the specific shifts you'd like to find. Do not make your changes on this step! Only use current settings to search for the shifts. When you are finished, select the Preview button at the bottom of the page. (If you are changing shifts in the past, make sure to select the "Include Previous Dates" checkbox.")
Step 2 will give you a list of all shifts the system has found. If this does not look correct, go back to Step 1 and change your filters until the list is accurate. When you are ready, select Step 3. On this step is where you can choose which changes need to be made. Just make the required selections, hit Yes, Change and you're all set!
Guess what? Shift changes aren't the only thing you can do in bulk! You can always bulk delete, unpublish/publish and bulk assign! Any of these options will take you through these exact steps so you'll always know exactly what to do!
To make your time more efficient in Shiftboard, be sure to check out our bulk change tool!